27/05/13
Key Q Awareness raising and dissemination seminar in Italy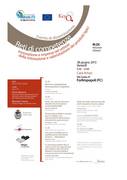 In the context of the Artusian Gastronomy Exhibition, on 28th June 2013 the Italian partners of Key Q project, with the participation of AZRRI and Region of Istria (HR) will carry out an awareness raising and dissemination event at Casa Artusi - Forlimpopoli (FC).
The event will be concluded by cooking lessons for citizens, in the form of a cooking demonstration.
During the meeting, the new-born Italian Association of Didactic Restaurants (Ri.Di. Ristoranti Didattici) will also be presented.
Final speech will be held by the Deputy Minister for Education, University and Research.
The programme of the event is available here.